About Instantly Ageless ®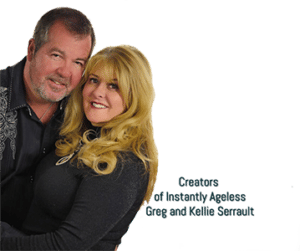 Greg and Kellie Serrault are the makers of Instantly Ageless ® LLC which was founded in 2008. It rose to mega fame in 2014 when Jeunesse Global had the license to sell it as part of their brand. ( as of Dec 5, 2022 Jeunesse no longer has the license and all purchases are made directly through Instantly Ageless ® LLC ) What more could you learn about Instantly Ageless? Read on!
Instantly Ageless ® Facelift in a Box was developed by Anti Age Technologies, LLC and a qualified team of cosmetic chemists. The amazing instant facelift product lives up to it's name, while other products claiming to immediately reduce wrinkles, lines, puffy eyes and more, don't deliver.
Extensive Testing and Research
Extensive research, clinical trials and market testing across the United States and abroad, has brought us to the amazing formula that women and men have come to love. It's an incredible and effective alternative to invasive, risky and expensive cosmetic procedures. Instantly Ageless cream is the safe alternative that boosts your confidence as you look your very best.
Number One Face Lift Cream
The Instantly Ageless flagship product "Facelift in a Box" has been the number one seller for the Serrault's; however, they do offer other anti-aging products that enhance the star of the show. There are a few products in the line with more expected to come in the future. Instantly Ageless ® the two minute face lift cream, literally reduces the appearance of fine lines, wrinkles, puffy eyes, and dark circles INSTANTLY. The Moisture Lift product helps to trigger collagen production which will also reduce fine lines and wrinkles over time. Excellent combo to use together ;)
Now that you know all about Instantly Ageless and how it came to be, why don't you try it out? You can place an order online and you can even become a rep and sell Instantly Ageless!
As seen on: